WHO WE ARE
The Know Now Know How Network was initially created under the Law-Decree no. 43/2014, of 18th of March (meanwhile revoked, but replaced by the Law-Decree no. 63/2016, of 13th of September which also foresees the existence of these networks), which created in the polytechnic higher education system the higher professional technical courses (CTeSP) – shorter higher education courses, characterized by its more technical, more specialized, more professional and more applied character and, therefore, necessarily more connected to companies and other employers.
Despite being born associated with the creation of this new type of courses, ISEC Lisboa understood early on that the creation and operation in a network system of Know Now Know How should have a broader scope of action. Thus, it was consolidated as a true bridge between the education and training institutions and employers, adding not only the previous partnerships already existing at ISEC Lisboa, but also deepening the connection to the community and region in which we operate, while promoting the joining of new entities.
Officially launched on 01/26/2016, the Know Now Know How Network currently has about 150 partners (companies, municipalities, professional associations, NGOs, higher education institutions, secondary schools and professional schools), with the main goals:
• The articulation of training levels 4, 5 and 6 given by the partnering schools / educational institutions;
• Design, implementation and development of new CTeSP;
• Production of further training offers applicable to the business reality and relevant to the development of the region;
• Articulation between the training offer of the Know Now Know How Network partners and the job market;
• Development and optimization of the qualification of assets with sustained competitiveness capabilities;
• Promote the development in partnership "academia / industry" of products, services and organizational processes that make companies more competitive in a global environment;
• Development of collaborative and applied research projects between partner entities;
• Contribute to local, regional and national development through the development of an open and socially responsible scientific culture;
• Promote the transferring of knowledge produced in higher education institutions to companies, thus creating value.
---
COORDINATION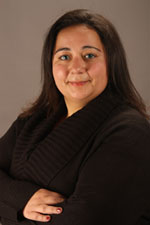 Tânia Carraquico | ISEC Lisboa
Degree in Law from the Faculty of Law of the University of Lisbon and MA in Creative Industries Management from the School of Management and School of Arts of the Catholic University of Portugal - Porto. She worked as a legal consultant and lawyer in several public and private institutions, highlighting the work carried out for about eight years as a legal consultant for the then Ministry of Science, Technology and Higher Education.
Contact: This email address is being protected from spambots. You need JavaScript enabled to view it.